Be More Comfortable in Your Galley Today
Get The Self-Sufficient Galley: A

Practical

Guide to Food Confidence now!
Includes:
Online Course - 8 modules
Meal planning, buying provisions, food storage, garbage, and cooking
Lifetime access to all course materials, including additions and updates
Written text plus 19 videos and 24 downloadable references, checklists, planning guides and recipes
BONUS: Ultimate Guide to At-Home Pizza Perfection (ebook)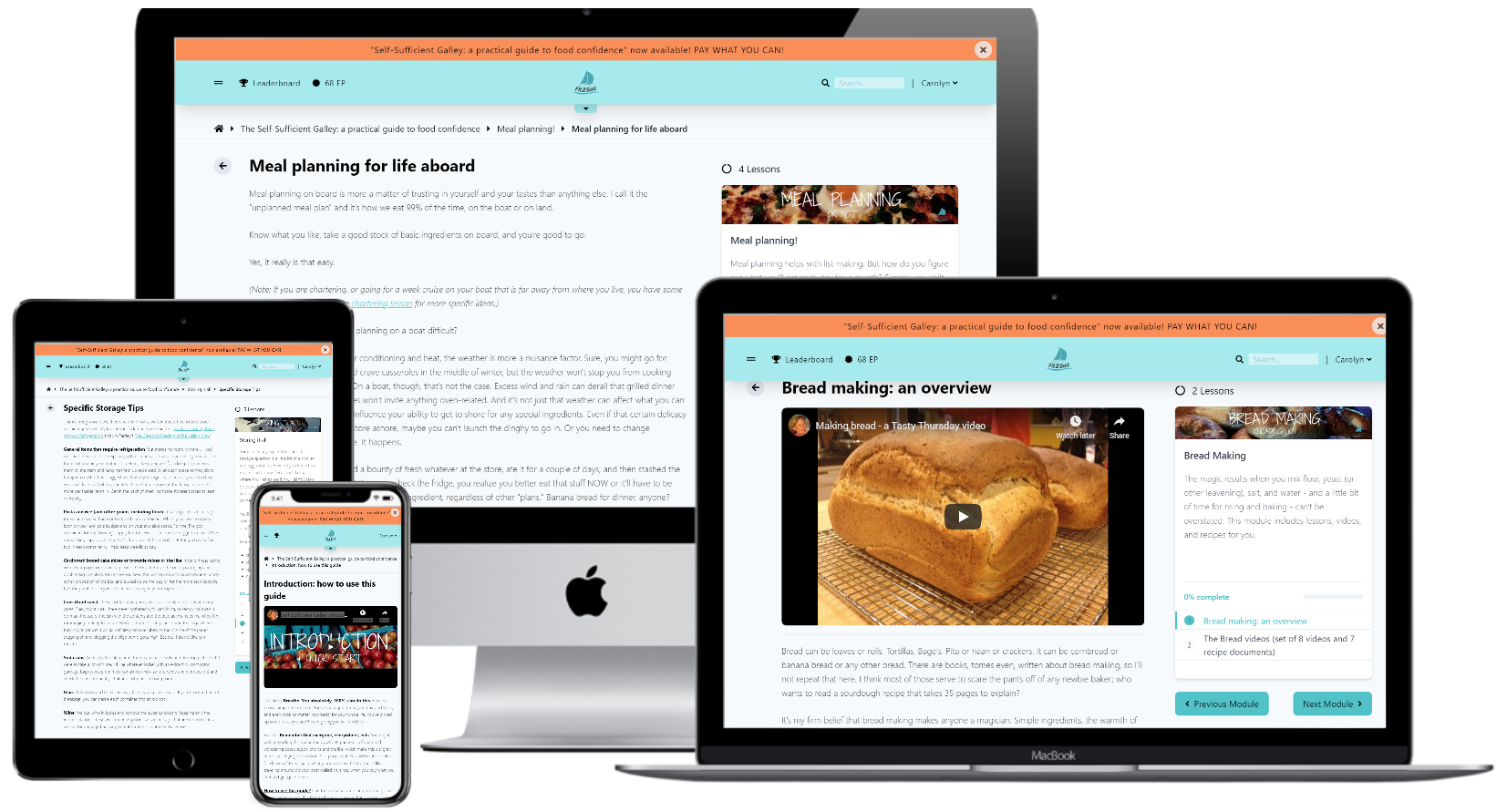 Price: $19
Overwhelmed by the thought of not going to the grocery store every few days? How to buy the right amount of the right foods? How to store it all? And then how to prepare meals that everyone will like?
Even experienced cooks wonder about the realities of being responsible for the food onboard. What if there's not enough food? What if there's not enough space to store it? Will it go bad before we eat it? I want to have good meals, but I don't even know where to start!
Stress not. Nica Waters will walk you step-by-step through provisioning, food storage, and cooking aboard. Delicious meals are just around the corner. Nica's systems can work for anyone and your meals will be tailored to the foods and flavors you love. Not someone else's ideas of great meals, but yours.
Nica Waters has been cruising on and off for the past 25 years with her husband, Jeremy, on their 28' Bristol Channel Cutter, Calypso. They have done 2 successful cruises (one before kids and one with) and are in the countdown phase for the next one.
Her passionate belief is that cooking and food management is far easier than many people think it is, and all they need is a little guidance to see that.
Nica teaches several Cruiser's University courses at the Annapolis Boat Shows, including Provisioning. She's also one of the admins for the Women Who Sail Facebook Group and is half of The Boat Galley Podcast team.
This course is suitable for:
Vegans, vegetarians, and pescatarians as well as meat-eaters
Those with dietary restrictions due to food allergies, chronic health conditions, or religious beliefs
Grazers, snackers or "eat three meals on a set schedule" types
Couples, single-handers, families, and charter groups
Off the grid or on the grid, boats at anchor or in marina slips
Those in warm/hot latitudes or cool
Cruisers with frequent access to provisions or in remote locations
Nica will show you how to have meals that cater to the tastes and needs of those on your boat with practical information and easy to adapt systems.
Price: $19

Details
The Self-Sufficient Galley is filled with tips and advice to help anyone become more confident in the galley, from provisioning to storage to cooking and more. There are eight modules:
Introduction
Meal Planning
Stocking Up Sanely
Storing It All
Garbage
Bread Making
Salad Dressing
BONUS: Homemade Pizza (ebook)
Each module stands alone; modules can be taken in any order.
Topics and materials are being added constantly and you'll be able to access all the future updates FREE.
Throughout the entire course, Nica focuses on practical information and gives extensive examples to take you step-by-step through the process of having great meals without stress.
Nica's videos (19 of them!) show exactly what she's talking about and her downloadable/printable materials make it easy to refer back to items, even if you're offline.
You absolutely can master your galley; Nica will help you every step of the way to kitchen confidence.
Let's get started!
Price: $19